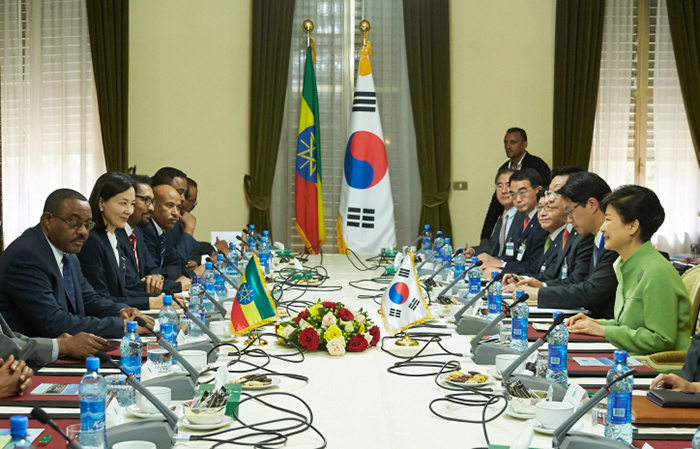 President Park Geun-hye and Ethiopian Prime Minister Hailemariam Desalegn held summit talks in Addis Ababa on May 26. The two leaders discussed measures to bolster cooperation on a wide range of sectors, including the economy, trade, investment, infrastructure construction, economic development and security. Also during the meeting, Prime Minister Desalegn vowed to support denuclearization on the Korean Peninsula.
The two governments signed a total of 40 memorandums of understanding (MOU), 36 of which covered the economy and one that covered defense cooperation. These MOUs will help Korean firms participate in Ethiopia's infrastructure construction projects, including the building of an expressway between the cities of Gore and Tepi in western Ethiopia, worth some USD 690 million. Korea and Ethiopia also signed MOUs to cooperate on the textile industry, textile technology and the construction of a textile industrial complex at a 1 million-square-meter site in Adama, 74 kilometers to the east of Addis Ababa.
The two governments agreed to strengthen cooperation through Korea's new development cooperation program, Korea Aid. President Park told the Ethiopian leader that her administration will work on promoting the New Community Movement in Ethiopia. She also urged the Ethiopian government to take an interest in and to support Korea Aid so that it can become an effective, sustainable model for development cooperation.
Read more at: Korea.net